Caution! 'Tis the Season!
Posted on Mon Dec 21, 2015
by SGL Financial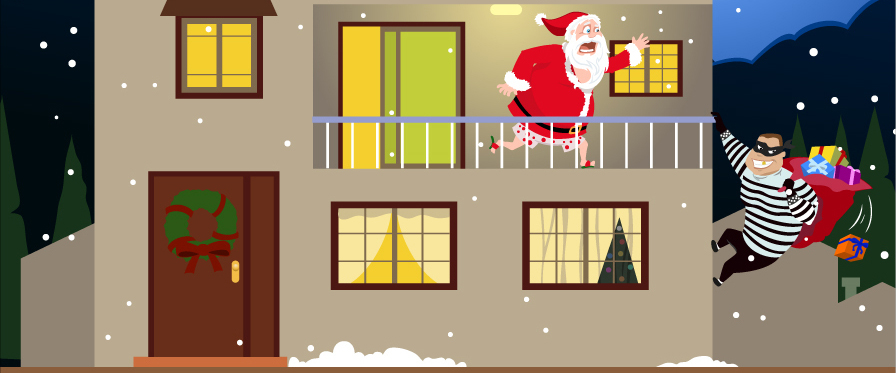 Homes are glistening with lights, boulevard trees shine with exuberance, and the sound of carolers echo the familiar tunes. It's a warm, wonderful feeling. And you are part of it enjoying the hustle and bustle, looking for that 'special' gift in almost every store, spending time with loved ones, embracing every moment of the joy that abounds.
The holidays are a special time. And while you focus on the holiday spirit, others are focused on you, but for a very different reason. Instead of finding things to give as gifts to you, these people are focused on finding ways to take from you. Yes, this is the season where theft and fraud are at their highest. To ensure you're not another statistic for 2015 here are some things to watch out for:
1. Lock It: If you have deadbolts use them! If you have cash and jewelry in your home, make sure they are in a lock box and hidden out of plain sight. Don't worry about arming your home like Kevin did in Home Alone, but do make sure you lock up and keep some lights on in the house when you're away.
2. Don't Click: This is primetime for retailers to flood your inbox with emails but before clicking right away, make sure the email sender is the true sender. If you're not sure your best bet is to not click at all and simply open up the stores website in your browser and the same deal offered in the email should be listed on the website.
3. Avoid the Scam: Be careful when making purchases online, especially auction sites including EBay. The well-known website EBay has strict regulations regarding scammers, and the scammers know this. If the seller tries making the deal outside of the auction website stay away! There's no rhyme or reason not to continue the transaction on the trusted website. If you encounter this, keep moving.
4. Your Number: This might be common sense to most, but you'd be surprised how easily people give their Social Security numbers thinking the reason is legitimate. Although it may seem that it's from a trusted source in an email, never provide that sensitive information on the web! You'll never receive an email from myself or my team requesting your Social Security number online. If you ever see anything from us that look suspicious, call us right away!
5. Coupon Scams: An estimated 63 percent of shoppers search for online coupons or deals when they purchase something on the internet. In addition, research shows that consumer are also using their smartphone or tablet to redeem the coupons. If you find a coupon you're looking for or that you like, you should not need to enter any personal information. If you're asked to enter any personal information, chances are that you are about to get involved in a phishing scam.
During this holiday season, enjoy yourself and your time with your friends and family. But remember, you should always be on the lookout for anything suspicious to protect yourself at the same time.
Stay well, safe and secure. And, Happy Holidays!