Congress vs. Social Security
Posted on Mon Nov 09, 2015
by SGL Financial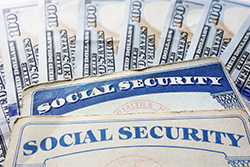 Many of you may not have heard about the new changes that will affect the strategies used to claim and maximize Social Security benefits. For those of you who have heard, you may feel unclear in your understanding of what this all means, why it is happening, and how it could potentially derail part of your retirement plan. Because these new changes can most certainly impact your overall plan, I'd like to take a moment to give you a better understanding of the new laws. Let's walk together.
The Bipartisan Budget Act of 2015 was signed by President Obama on Monday. This Act will remove two key claiming strategies for Social Security benefits that could have meant a significant increase to your and your spouse's income for the future. The changes concern the File and Suspend and File and Restrict options for claiming. Both of these options allow one of the individual's to claim spousal benefits while their own or the others benefit continues to grow. The changes as currently laid out will effect individuals who reach age 62 after 2015. This will also be effective for benefits payable beginning 6 months after enactment, with respect to benefit suspension.
Eliminating these strategies will be felt by a number of people in varying situations and circumstances. This change will affect individuals who are single, married, divorced, children on the work record of a spouse, households with disabled children, ex-spouse, or a parent who has suspended his or her benefits. And unfortunately, this will take the biggest toll on the middle class.
With this new budget in place, millions of hard working Americans who were relying on these strategies to enjoy their retirement years, to feel a little extra security from their government and to take a little extra burden off their shoulders will now have to rethink their futures. Changes of this magnitude can often seem extremely overwhelming, even to the point where you may not know who you can turn to for sound advice. If you have any concern whatsoever regarding this new Act, I want to express how important it is that we talk and go over your financial plan. I'm positive that having a conversation and reviewing your current plan will be worth your time. Whether we find something that needs attention, or we decide together that your current plan best fits your needs, I'd like to take some time to help relieve any worry you may be feeling.